Our rooms
...The furniture in †the rooms is typical as well as elegant.
We have a variety of different rooms: single or double rooms, en-suite rooms, family rooms, communicating rooms with two bathrooms.
Warm colours and wooden floors make every room in the Hotel particularly pleasant and welcoming, ideal for relaxing after a full day in our beautiful mountains.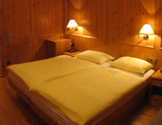 Facilities
---------------------------------
Here you can see our rooms:

- Single room
- Double room
- En-suite room
- Communicating rooms with two bathrooms

Singles, families, couples for eatch of them we have to offer a nice room.
All the rooms of this comfortable 3 star Hotel are equipped with all sorts of facilities such as telephone, TV, hair-drier, safe, mini bar, radio alarm clock, etc.